Did you know that electric vehicles (EVs) cost less to operate than gas-powered cars? EV operation can be three to five times cheaper than gasoline and diesel-powered vehicles, especially now with the high gasoline pricing that our country is experiencing. This week is National Drive Electric Week (9/23 – 10/2) and we're advancing our dedication to clean energy by educating customers about this environmentally friendly and smarter transportation choice.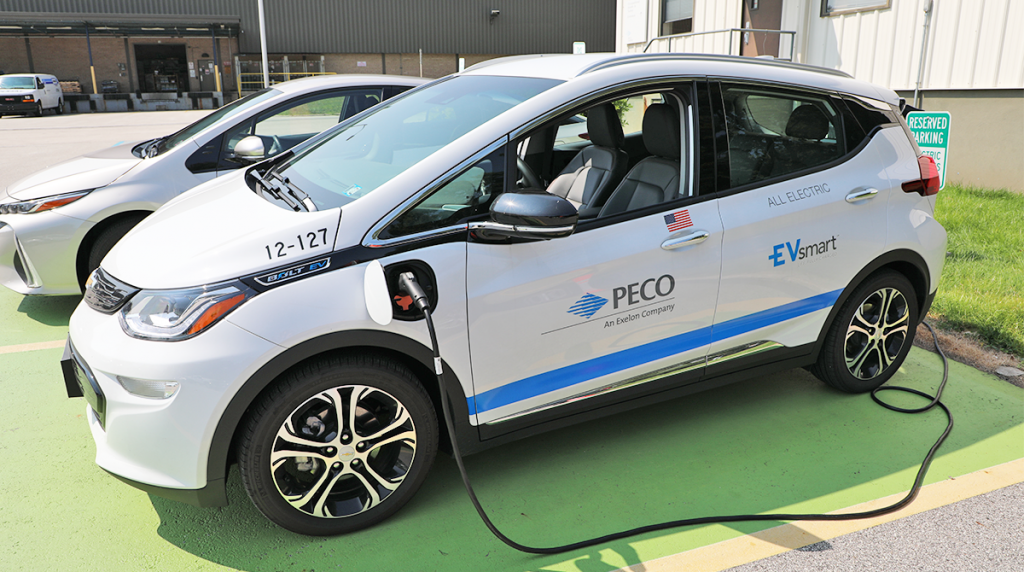 Whether a standard electric vehicle, an all-electric vehicle (also known as a battery electric vehicle or BEV) that drives solely on power from the plug, or a plug-in hybrid electric vehicle (PHEV) that uses both electricity and gasoline, EVs provide many benefits and save money. Not only do EVs improve public health and reduce environmental damage, as they have no tailpipe emissions that contribute to climate change and smog, but their electric motors also provide quiet and smooth operation, stronger acceleration and require less maintenance than gasoline-powered internal combustion engines.
As a strong advocate of transportation electrification, we have taken steps to ensure a cleaner and brighter future for the communities that we serve. PECO, together with the collective Exelon utilities, will electrify 30 percent of our enterprise-wide fleet vehicles by 2025 and 50 percent by 2030. PECO currently has approximately 100 plug-in vehicles, and we plan to grow that number to almost 300 in 2024 by integrating EVs, vehicles with plug-in idle mitigation units, and plug-in hybrids into our fleet. Additionally, we plan to add 100 additional charging stations (to the existing 96 charging stations available at 13 company buildings) over the next five years to support electric vehicle growth. All these efforts are a key component of our Path to Clean commitment to lower operations-driven emissions by 50 percent by 2030 and achieve net zero emissions by 2050.
Customers can join the ongoing mission to combat climate change by supporting the adoption of EVs. Our EVsmart Program features an interactive, online EV toolkit that allows customers to research EV and PHEV options, calculate carbon reduction for environmental savings, estimate the fuel savings of owning an EV, discover potential tax incentives and special promotions, including the PECO Driver Rebate where customers can apply for a $50 rebate just for purchasing a plug-in electric vehicle, and much more.
We're proud to support customers in reaching their clean energy goals. As part of our ongoing transportation electrification efforts, we continue to promote the use of electric vehicles with our customers through rebates and other programs designed to support the build-out of the electric vehicle infrastructure in Pennsylvania.