At PECO, supporting the deployment of solar energy in the Greater Philadelphia region is a top priority as we work to ensure a cleaner and brighter future for our customers and communities.
Solar is an integral part of our company-wide Path to Clean journey, which includes a goal for PECO and the collective Exelon Utilities to reduce our operations-driven emissions by 50 percent by 2030 and achieve net-zero emissions by 2050.
An extremely important piece of this work is supporting the solar workforce of tomorrow – equipping our future solar leaders with the training, tools, and resources they need in order to succeed and grow in this increasingly important field.
PECO is proud to support various training programs in the community. We have partnered with the Philadelphia OIC to sponsor a Smart Energy training program for unemployed and under-employed adults, and recently provided educational ad hands-on-training opportunities for candidates participating in our Infrastructure Academy and Pre-Apprentice Program.
A program that shines particularly 'bright' is the School District of Philadelphia and Philadelphia Energy Authority's Bright Solar Futures program, a 3-year Career and Technical Education (CTE) vocational program at Frankford High School. This is the first program of its kind in the nation, launching young people into the jobs of the future.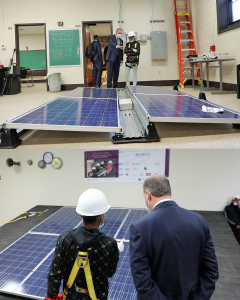 Bright Solar Futures, funded with grants from the U.S. Department of Energy's Solar Energy Technologies Office and PECO, provides access to solar careers for young Philadelphians, growing a diverse and more equitable workforce that will help make national climate priorities a reality.
PECO recently joined the Philadelphia Energy Authority, the School District of Philadelphia and the City of Philadelphia to celebrate the opening of a brand new Solar Training Lab at Frankford High School. The lab provides training opportunities for Pennsylvania's fastest-growing careers in solar and clean energy with a state-of-the-art teaching and learning environment.
The Bright Solar Futures program is at the intersection of two very important priorities for PECO – supporting clean energy resources to mitigate the impact of climate change and furthering initiatives to spur the clean energy workforce of tomorrow.
From investing in educational and training opportunities, to facilitating end-to-end job placement training workshops, PECO is committed to addressing economic inequities in the diverse communities throughout our region.