Today PECO joins Solarize Philly, an initiative of the Philadelphia Energy Authority and Philadelphia City Council, to kick off the 3rd annual Philadelphia Solar Week.
This year, Solar Week will put a spotlight on themes including using solar as a tool to rebuild the economy as the city rebounds from the COVID-19 pandemic, job creation, and building a diverse solar workforce.
The weeklong celebration consists of a series of events, both virtual and in-person, educating the community on how to go solar. Events include a press conference, webinar series, career panel, PECO Solar Collaborative meeting, and solar art and solar customer story competitions.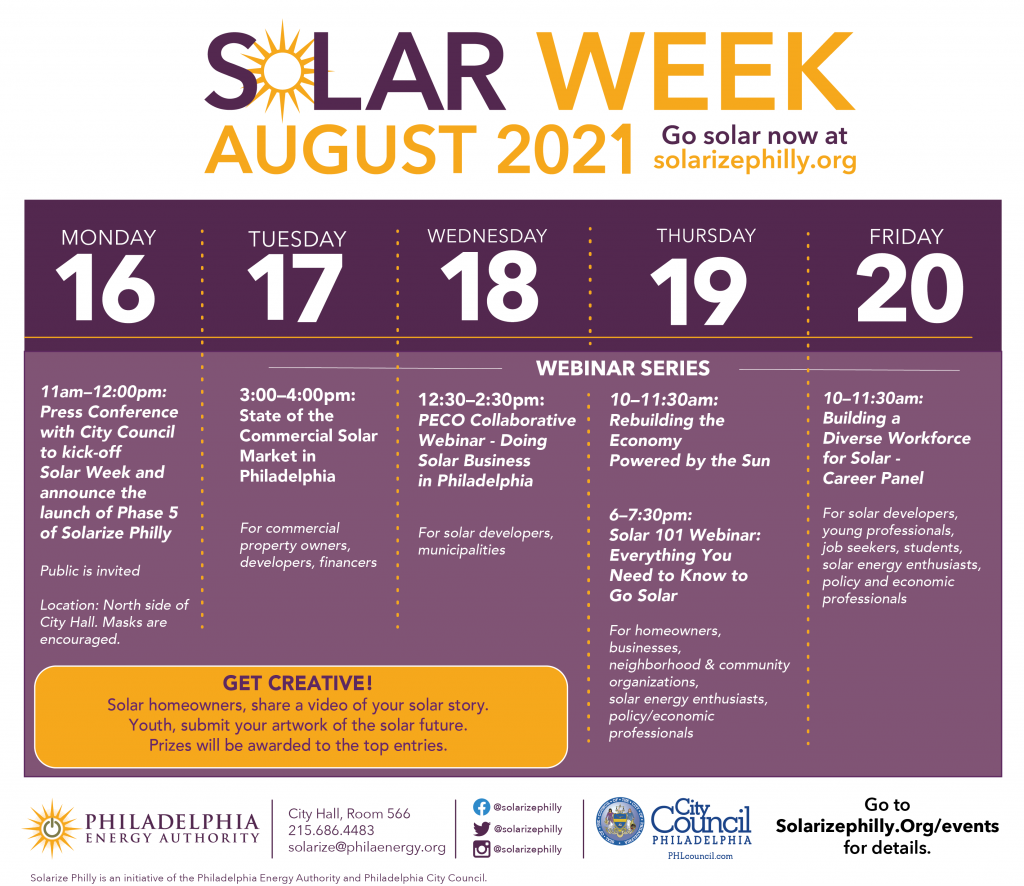 Supporting the deployment of solar-generated energy in the Greater Philadelphia region is a top priority for PECO as we work to ensure a cleaner and brighter future for our customers and communities.
We have implemented a range of initiatives to support solar energy, including:
· Embarking on a first-of-its-kind solar credit procurement program, creating a local market for solar generated power right here in Southeastern Pennsylvania
· Making critical infrastructure investments to further the adoption of solar
· Supporting policies on a state and regional level to advance the use of this clean energy resource and expand solar energy deployment
· Hosting bi-annual Solar Collaborative meetings that bring together the region's solar developers and advocates to discuss industry trends, company updates and overall adoption of solar energy across the Greater Philadelphia area
· Fostering the solar workforce of tomorrow by partnering with the Philadelphia Opportunities Industrialization Center (OIC), Inc. to develop training programs that provide opportunities for the unemployed and underemployed, while also ensuring under-served communities will benefit from the company's investments in ongoing solar development
· Growing the Green Power Connect Team, which is dedicated to providing new and innovative ways to support customers in their efforts to install solar and interconnect to the grid
At PECO, we're building on our commitment to protect and preserve the environment by playing a leading role in the Greater Philadelphia region's transition to a clean energy future to combat climate change – and supporting the advancement of solar generated energy is a big part of that.
Earlier this month, Exelon Utilities made a significant announcement, setting forth on a journey that will have a marked impact on our company, our communities, and our planet. We are strengthening Exelon's commitment to tackling the impacts of climate change by announcing that Exelon Utilities will reduce its operations-driven emissions 50 percent by 2030 and achieve net-zero operations-driven emissions by 2050.
To support the achievement of our Path to Clean goal, PECO is implementing programs to dramatically reduce our own carbon footprint, while also investing in our infrastructure to make clean energy solutions more accessible, affordable, and equitable for our customers. For more information, click here.