Just as crews from PECO's sister utility ComEd supported power restoration efforts last week following the aftermath of Tropical Storm Isaias, PECO crews are currently on their way to return the favor.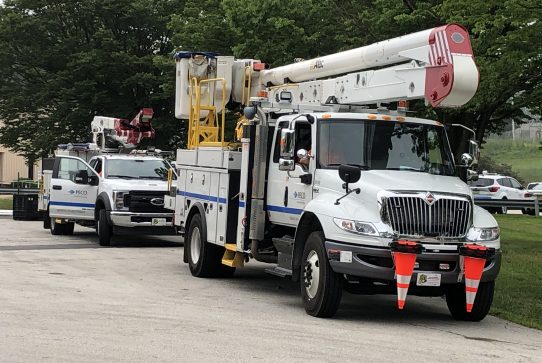 Residents of southeastern Pennsylvania know all too well the devastating impacts of a derecho, as one tore through the area in early June. These storms can bring intense winds and inflict serious damage across a large area in a short amount of time. Parts of the Midwest are currently working to clean up the damage of a significant derecho that passed through the region on Monday, and utilities are working to restore power to hundreds of thousands of customers.
PECO crews embarked on their journey to Chicago earlier this morning. Approximately 45 employees and 50 contractors are on their way to support ComEd in their power restoration efforts. As of Tuesday, 450,000 ComEd customers are currently without power due to this intense storm.
Crews departed from Berwyn, PA, after gathering necessary supplies, beginning their two-day trip to northern Illinois. The truck caravan will stop in Toledo, OH before arriving in the ComEd service territory.
Mutual assistance continues to be a hallmark of the electric utility industry and serves as a critical component of power restoration efforts following major weather events.
Disclaimer: All images displayed in this content hub story are property of PECO. Permission is granted for these images to be reused on the condition that they are shared exactly as presented on the website, without any addition or modification.