Say goodbye to hot summer days and hello to the crisp fall breeze. It's officially time to bust out that #fallfashion, sip on a delicious spiced latte and get outdoors to handpick some apples and pumpkins. We should mention one more thing, it's a big one: it's time to fall into the savings!
Crazy to think it's almost time for winter, brr! We recommend our customers take advantage of the sweater weather now to prepare for the winter months ahead. Cold temperatures during the winter can cause customers to use more energy and experience higher bills – and who really wants that? Not us!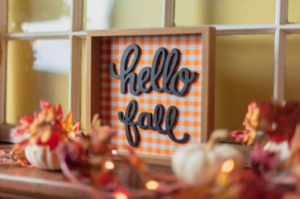 We know your home has become your office, classroom, gym and fancy five-star restaurant. You're using more energy – whether it's from leaving your computer plugged in all night or firing up the oven for breakfast, lunch and dinner… can't forget about dessert.
But, by following a few simple tips and making straightforward energy efficiency improvements during the fall, customers could save 20 percent (!!!) or more on their winter heating bills. That may have sounded like an insurance commercial, but it's true!
Take a look at some energy tips that will make you even more comfortable snuggling up at home on your couch. Netflix and chill? More like Netflix and lower my energy bill!

Keep it sealed. A poorly sealed house is costlier to keep warm. Caulk around doors, windows, and any openings for utility services. Using the locks on your windows helps make a tighter seal that is more resistant to drafts. If you have a fireplace, keep your damper closed when the fireplace is not in use.
Upgrade your insulation. Insulating your home can significantly reduce your heating costs, while also increasing the comfort of your home. Reducing air leaks – around floors, walls, ceilings, ducts, fireplaces, doors, windows, vents, and plumbing – could cut your home's average monthly energy bill by 10 percent.
Check ducts for air leaks. Look for joints that are no longer connected. Leaky ductwork can increase your energy bill significantly.
Warm up your system. Service your heating system before winter begins. A well-maintained system will last longer, operate more efficiently, and save you money. The potential for carbon monoxide exposure is possible if home heating equipment is not properly tested, serviced, and maintained.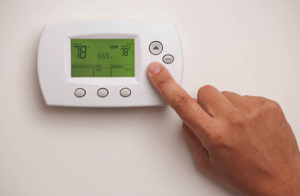 Manage your thermostat. Keep thermostats set at a comfortable level. You can save about two percent on your heating bill for every degree you lower your thermostat. When you are asleep or out of the house, try turning your thermostat back 10 to 15 degrees for eight hours to save approximately 10 percent on your heating bill. Consider investing in a smart thermostat that can connect to your mobile devices, helping you stay on top of your energy usage.
Be prepared for cooler weather. Remove screens and air conditioners from windows and install storm windows.
Take advantage of the sun's heat. Open curtains on your south-facing windows during the day to allow sunlight to naturally heat your home and close them at night to reduce the chill from cold windows.
Shorter days and longer lights. Adjust outdoor lighting timers as the nights grow longer. Replace older incandescent bulbs with new energy efficient LED bulbs.
Find more home-energy saving tips for this winter by visiting peco.com/smartideas.

No, seriously. We have nothing but love for our customers and we want to see you flourish this fall and winter.
Colder weather and increased energy use can sometimes be a challenge. We are committed to helping our customers by providing information on how to save money and energy, as well as connecting you with helpful state and federal resources. We also offer helpful payment options such as Budget Billing, which averages payments over a 12-month period to help customers manage their monthly energy bills.
Many programs are also available to help low and limited-income customers who are struggling to pay their energy bills, including the Low-Income Home Energy Assistance Program (LIHEAP), a federally-funded program that helps low-income families meet the costs of their home energy needs. Up to $1,500 in grant support per customer is available, depending on a household's income, size and type of fuel, with no pay back required. Customers who wish to learn more about LIHEAP or other available programs should visit peco.com/help or call 1-800-494-4000. If you're struggling with the pandemic, please let us help!
Disclaimer: The images displayed in this content hub story, when noted, are NOT the property of PECO and therefore cannot be reused, repurposed, or shared in any other form for any other purpose.