We're thrilled to celebrate our very own employee Kira Jenkins, who was recently awarded the 2021 Paradigm Scholarship for Working Women, a merit-based scholarship for women who are working toward an undergraduate degree. During a virtual award ceremony held on March 4, 2021, Kira was awarded alongside 23 other hardworking women from the Philadelphia region who are pursuing their career and educational aspirations while acting as role models for the girls and women in their lives.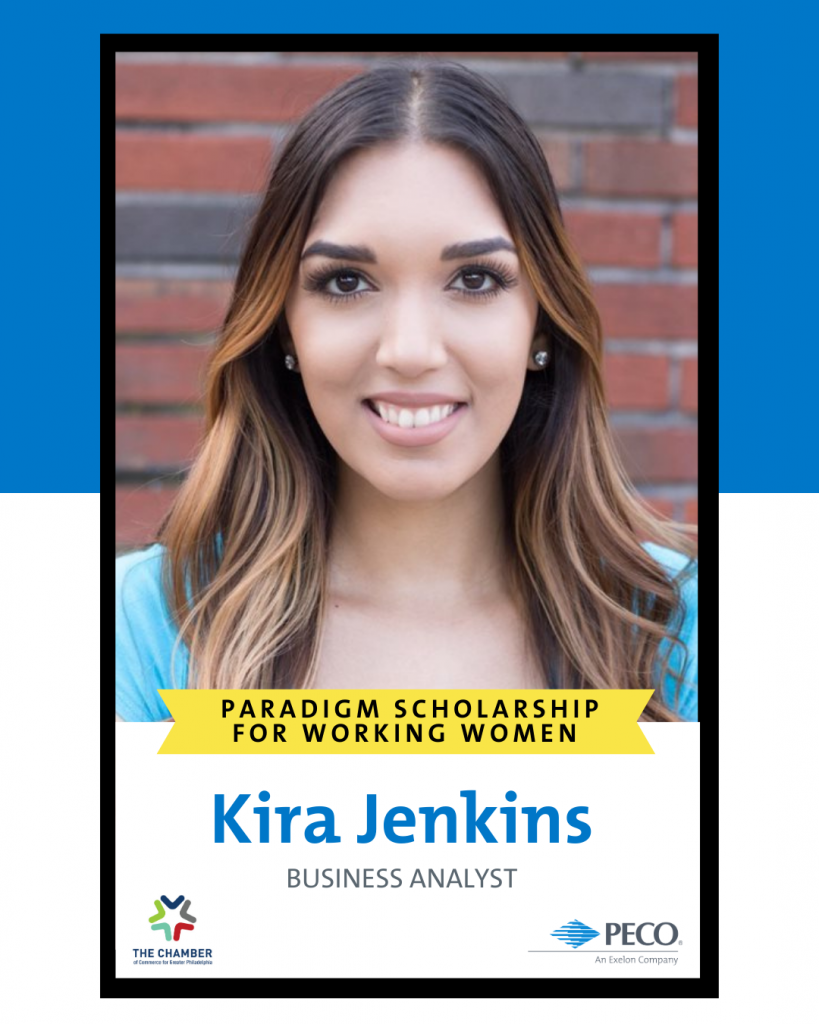 At PECO, we firmly believe in the power of education. After all, it is with a solid base of knowledge that we can make meaningful changes in the world. We believe that investing in educating young people with diverse backgrounds, experiences, and ideas is one of the most crucial investments we can make to strengthen our workforce, economy, and society.
Kira's tenure at PECO spans over nine years. During this time, Kira has served PECO in a multitude of ways, including her time working as a contractor in the Call Center and System Billing. Five years ago, Kira transitioned into a full-time role and now serves as a Business Analyst in Smart Grid Services. In her current role, she conducts modeling, trending, and variance analysis to support business initiatives and operational performance.
The Paradigm Scholarship for Working Women was created to enable more women to reach their full potential while also inspiring others to become their own individual models of success. Kira exemplifies these qualities in several aspects of her life – both inside and outside of the workplace.
Beyond her professional accomplishments and the impressive work she provides at PECO, Kira seeks to make a positive impact on community members in need. She has done so by serving as the PECO Family & Friends fundraising lead for the 2020 Leukemia & Lymphoma Society's Light the Night event. She also holds a spot on the Employee Resource Group board of Developing Young Professionals (DYP) as the Communication and Newsletter Co-lead as well as the ECO Team PECO Secretary.
We admire Kira for her dedication to living a green lifestyle in order to make strides toward environmental conservation. She is deeply passionate about saving the planet, taking care of animals and helping people wherever and however she can. Through creating simple, daily habits like purchasing plastic-free household products and following a plant-based diet, Kira is proud to do her part to inspire change in her community and, ultimately, lead a healthy, fulfilling life.
Congratulations, Kira!