After being powered down on July 6 for system upgrades, PECO flipped the Crown Lights switch back on Monday, unveiling a new display with an increase in resolution, animation and more vibrant color.
The Crown Lights are an iconic Philadelphia landmark that have lit the Center City sky since 1976 as part of the company's commitment to region. In addition to posting more than 17,500 messages over the years, most of which were dedicated to promoting local community and nonprofit organizations, the lights have also celebrated many significant local, regional and national milestones including Super Bowl victories, the Democratic National Convention and the World Meeting of Families conference.
"The Crown Lights are a great way for us to support our commitment to the Philadelphia by putting up messages every night to highlight many things that are important to the city" said PECO CEO Mike Innocenzo. "We took the lights down in July of this year and today we're happy to bring them back as part of the Philadelphia sky line. They'll be brighter, they'll be more energy efficient, and will have more dense pixels so we'll be able to show more dynamic messaging."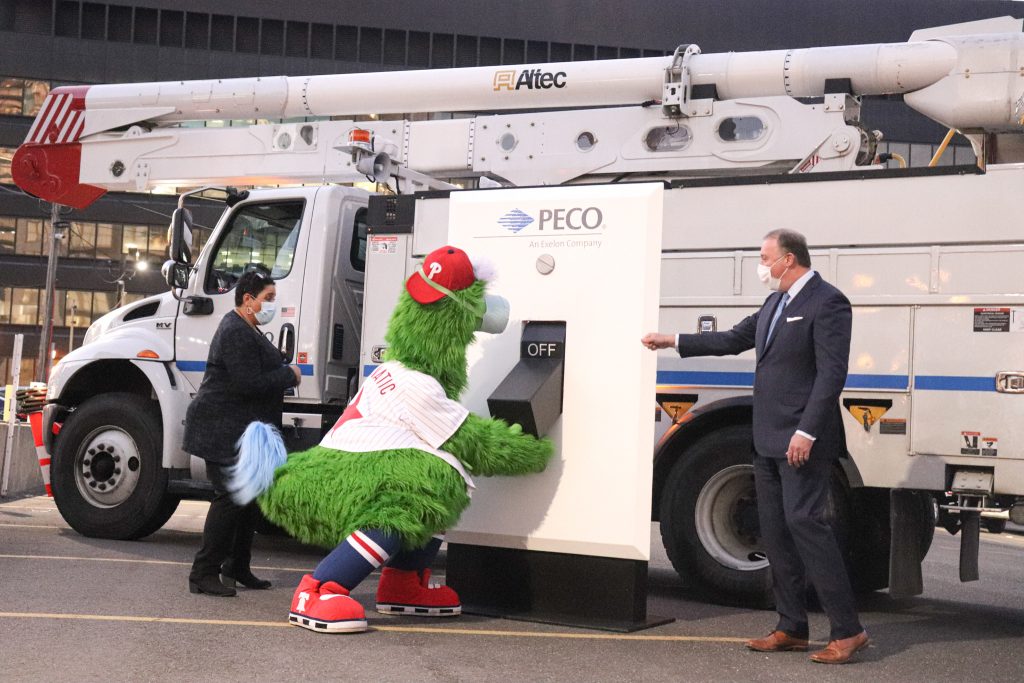 The first new message served as a tribute to the people and places that make Philadelphia a special place to live and work—with an emphasis on PECO's nonprofit partners.
"The Crown Lights help nonprofits whether they are their partners or they are just organizations promoting something significant that fold under our pillars of giving," said PECO Director of Corporate & Community Relations Romona Riscoe-Benson. "We're glad to have this resource back"
For media interested in additional interview footage with Innocenzo and Roscoe-Benson, click here
Disclaimer: All images displayed in this content hub story are property of PECO. Permission is granted for these images to be reused on the condition that they are shared exactly as presented on the website, without any addition or modification.